What are Service Requests?
IDHub Service Requests are used for managing IT and operational related services for anything from providing new computer hardware, devices, or tasks that need to be completed such as installing a new standing desk.
Service Requests assist organizations to facilitate tangible and intangible services, as well as standardize operational processes and provide detailed tracking related to those requests.
System administrators have permissions to create any type of Service Request needed within their organization. Listed below are several examples of different Service Requests.
Service Request Examples
Document Creation
Printing
Simple Graphics
Promotional Materials
Policy Document Update
Time-Sheet Update
Create a User
Modify a User
Terminate a User
Lock Account
Password Resets
Maintenance
Travel & Accommodations
User Account Modifications
Office Supplies
Office Equipment
Device Request
Safety Equipment
Telecom Equipment
Complaints
Access Badges, Fobs, or Keys
In-House Requests (i.e. mailing, printing)
Any Custom Request Needed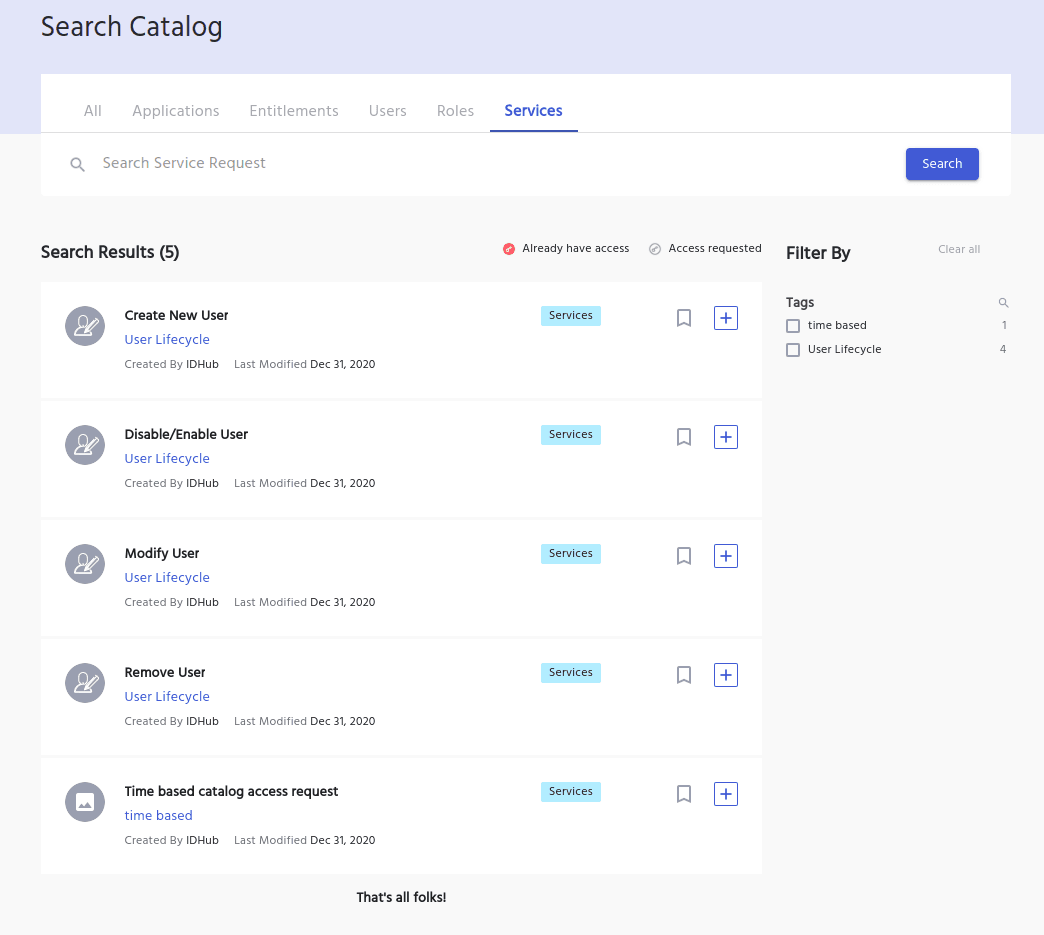 OOB Service Requests
IDHub offers a few out-of-the-box service requests, mostly related to the user lifecycle and time based requests.
Create New User
Disable/Enable User
Modify User
Remove User
Time Based Request
Service Request Process
Listed below are the steps taken from new creation to approval.
A system administrator creates a new requestable Service Request.
Users are now able to request for it from the Search Catalog page.
A user requests for the new Service Request.
A task is generated and assigned to the approver configured in the workflow.
The approver(s) completes the task, by either approving or denying.
The user who requested can track their request and will be notified when the request is complete.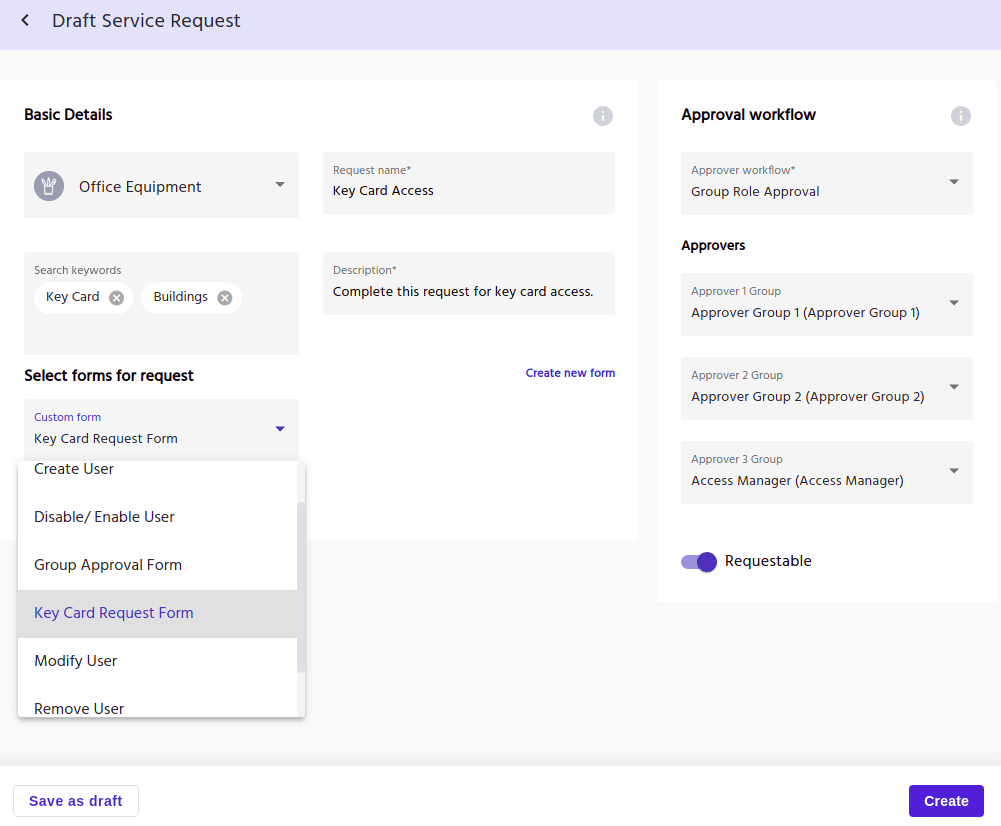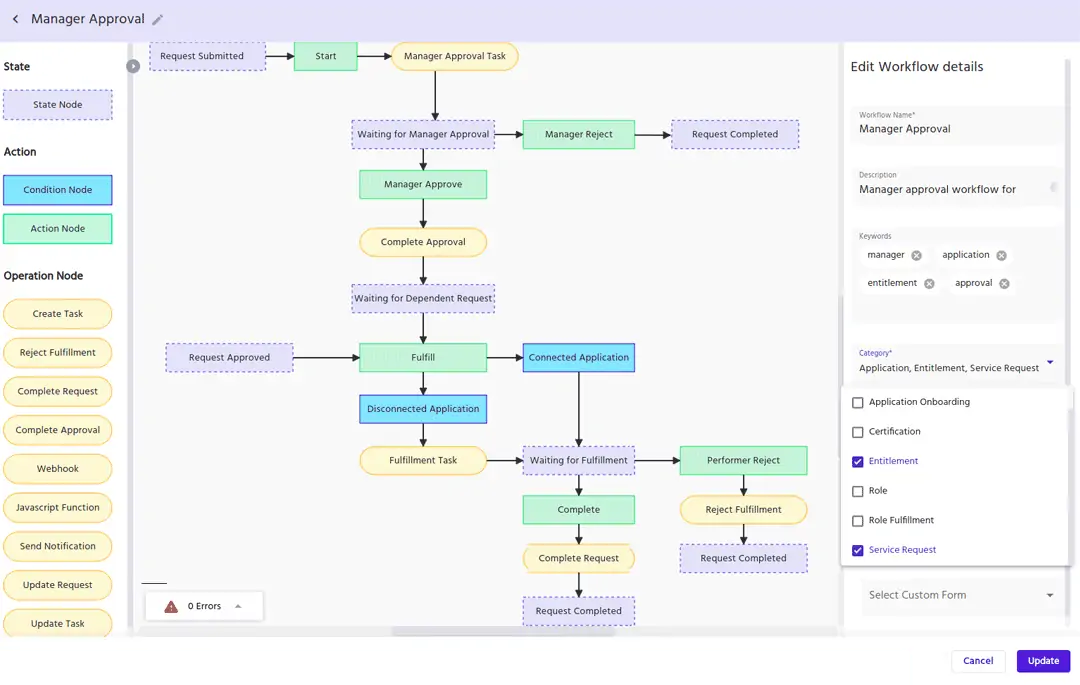 Service Request Approvals
Every IDHub resource, whether it's a Service Request, Application, Entitlement, Permission, or Role, follows a specific approval process, known as the Approval Workflow.
IDHub provides many out-of-the-box Workflows, and also has the capability to create any Custom Workflow imaginable.
Workflows can automated the provisioning of resources to user accounts, using connectors.
Forms for Services
When creating a new Service Request, Custom Forms can be used in conjunction with the Service. The Forms are used to collect all the information needed, in the required format, at the time of the request.
Forms are attached to the Service, requiring the user to complete the form as part of the request process.
The approver will determine whether or not to approve each request, based on the information provided in the Form.