Let The Experts Do It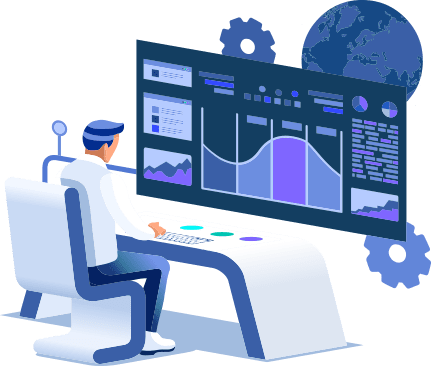 It's challenging to keep up with the fast-paced world of Cybersecurity and IT.
Businesses have realized the significance of Cybersecurity, and are rapidly outsourcing strategies to manage their Cybersecurity and IT projects, creating a strategic way to achieve organizational goals, reduce costs, and improve customer satisfaction.
Managed IT Services provide companies with a dedicated expert servicing critical infrastructure and data; often too cost-prohibitive, complex, and unwieldy to manage in-house.
Sath's Managed Services is a comprehensive solution that provides everything an organization needs to support its Cybersecurity and Compliance, at an affordable price.
Our clients matter.
Delivering Superior Service
Sath increases organizational value by providing the technical capabilities required to comply with industry regulations, all while removing the hassles of managing and maintaining a full-service staff.
Understand Specifics
Certified Experts
Our ITIL experts focus on customer service, technical skills, internal efficiency, and IT governance, allowing us to better understand the situation and specific pain points.
Our Methodology
Sath Technique
We follow a proven, systematic, and balanced approach to implementing service management. We understand the client vision, and apply to the unique business needs.
Tailored Solution
Custom Approach
Each client will have a custom built plan and state, defined according to their requirements, with continuous and incremental changes as needed, ultimately reaching the desired state.
Levels of Managed Services
| Tier 1 - $ | Tier 2 - $$ | Tier 3 - $$$ |
| --- | --- | --- |
| | | |
| | Cluster Stack Patches and Updates | Cluster Stack Patches and Updates |
| | Performance tuning on your cluster system | |
| | | Performance tuning on your cluster system |
| | | |
| Non Production Environment Support (Dev/Test) | | |
| | | |
| Business Hours Support Phone/Email | | |
| Initial Response Time 8hr | | |
| Emergency Response Time 4hr | | |
| | No limit on support hours | |
| | Business Support Phone/Email | |
| | Initial Response Time 8hr | Environment Support (Dev/Test) |
| | Emergency Response Time 4hr | No limit on support hours |
| | | 24/7 Support Phone and Email |
| | | |
| | | Emergency Response Time 1hr |
We support all types of organizations worldwide
More About Sath Managed Services
Architecture Service
Sath maintains a solid reputation of delivering exceptional architectural services to government, retail, financial, healthcare, private sector and industrial clients. Our extensive resume ranges from planning to designing of technically sophisticated large scale identity, access, compliance and governance projects. We have developed our in-depth understanding of IT cyber security, identity, access & governance management and service delivery from over our 15 plus years of experience. This has all been achieved while being at the forefront of providing security solutions to solve these issues.
All Sath architects are experienced at identifying a client's needs and program requirements then translating that knowledge into a customized design solution. The key to our success is communication. We demonstrate this through workshops, best practices, client interaction, as well as tapping into our extensive knowledge base. Our design team consistently delivers functional, secure and reliable solutions to meet our client's needs.
Project Management
With every consulting engagement we incorporate our program management expertise to ensure that every project, whether big or small, is planned, implemented and completed to meet the project objectives laid out from the start. Our team consists of qualified and talented individuals with industry certifications but most important, many years of experience. We utilize industry best practices to develop customized solutions to meet your specific project requirements.
With this service we manage the entire program, implementation and service delivery process from pre-design all the way through to project delivery and steady state. Our service makes projects more efficient, cost controlled, are scheduled, and define the work scope without compromising quality.
Implementation Included
Sath's application implementation services follow a customized approach to successfully plan, conduct and control the implementation of IT security solutions. We offer a perfect blend of standardized processes, cutting-edge technologies and industry expertise to implement enterprise-wide applications.
Sath offers packaged application implementation services for planning, evaluation, selection, implementation, to post-implementation support and development. We define business needs at the beginning of the project to help our clients gain an accurate understanding of the requirements that need to be aligned during the course of the implementation.
Operation and Maintenance
Sath provides expert management services in operations, maintenance and administration to commercial and governmental organizations worldwide. We manage and operate our client's Identity and Access Management system by assisting with the creation of the systems and procedures. This includes monitoring security and update notices from software vendors, installing patches, updating PKI certificates and implementing configuration changes to adapt to external operational changes. The operations include monitoring for uptime, response times and service availability. Assisting externally and replying to parties to troubleshoot integration.
This service includes security events, architecture review, health checks and minor configuration changes. Sath bears the cost of keeping personnel trained on the latest equipment from multiple vendors. This training along with their cross-platform experience is the key for managing multi-vendor client environments.
Incident Management
Sath has the capability of becoming or augmenting an incident response team for Identity, Access and IT Security incidents. With our 24/7 call center, a team of experts and service delivery personnel who have knowledge base and with an incident management system, we are able to provide a customized incident management solution. We provide multiple levels of service, from Level 1 calls to help users with day to day tasks, Level 2 support to provide data and process level trouble shooting to Level 3 support to provide system and infrastructure level remediation. User incident management services are based on ITIL framework.
Customized Delivery
Our clients often want the flexibility of customizing a service package according to their needs. We do our best to accommodate them by reviewing their needs and we will then scale up or down as needed. We offer a fixed fee, monthly fee, hourly fee and service level fee models that fits in every company's budget.
30-Day, Money-Back Guarantee
If your organization is not 100% satisfied with the performance or value of IDHub and Sath Managed Services, simply Contact Us within 30 days of purchase, and we will refund your full payment.