Search Certificates
You can easily search and filter the certificates that you create in IDHub for easy management, editing and taking further actions on the certificate. This document would elaborate on how you can search for certificates and filter them
How to search for certificates​
Go to 'Certifications' in the Admin Module of IDHub using the credentials of a user that has the role of 'System Administrator' with them. To learn more about IDHub roles, click here
Upon reaching the certifications page, Click on the Search Bar.
Understanding the Search Bar​
Using the Search bar you have the ability to search for all defined certifications.
You can enter a string (all characters allowed) in the search bar to search for your desired certificate.

If there are no results found, IDHub displays no results found. You need to refine your search in order to get your desired results.
Else, IDHub displays search results and a count of search results if one or more result(s) are found.
Understanding the Search Filters​
IDHub provides some filters through which you can refine and filter your search results. Each time a filter is selected, data is refreshed for the specific filter. Let's go into the details of each filter.
By Status

Active - All certification definitions created are in Active State.
Archived - All disabled certification definitions are in the Archived State.
Draft - All certification definitions that have been "Saved as draft " and not created yet are in draft state.

By Relevance

Defined By me - This shows certificate definitions which have been created by you
By Recently Added - This shows the last 25 certification definitions
Modified By Me - This shows certificate definitions which have been modified by you
Understanding the Search Results​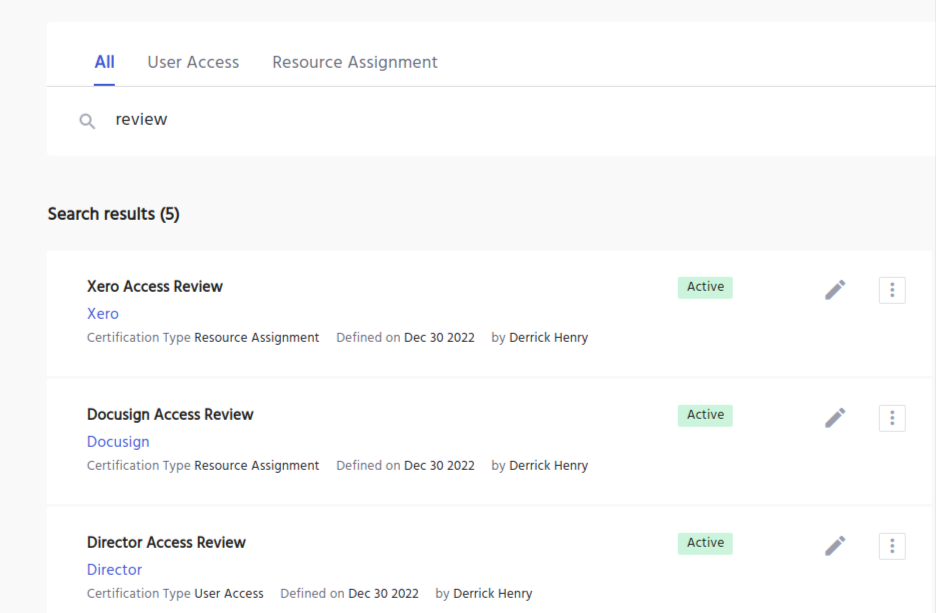 In Search results, you will find the certification definition along with various actions and details. Let us understand what are the actions possible on the certificate and what details of the certificate are shown in the search results.
Certification Definition Name
Certification Type
Defined by - Shows the username who created the certificate definition
Defined on - Shows the date when the certificate definition was created.
Tags - IDHub displays search keywords (tags) associated with the certification definition. If more than 6 tags are present the IDHub would show "... and xx more".
Status (Active/Draft/Archived)
Edit(Pencil Icon)

This allows you to modify the certificate. Click here to learn more about modifying certificates.

More Options

Actions on the Active Certificate

Run Now
Past Request
Archive

Actions on the Archive Certificate
Actions on the Draft Certificate
tip
Click here, to learn more about the actions on the certificate.